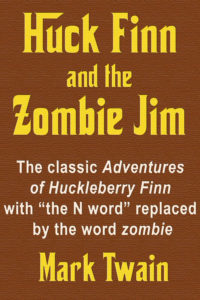 Mark Twain's
Adventures of Huckleberry Finn
is considered the greatest American novel, but it has long faced two problems in reaching new readers: a distasteful racial slur, and the lack of the sort of genre elements that draw in today's young readers. Here we offer you the full text of the book, with just a single word change allowing us to bring you exciting passages like:

Strange zombies would stand with their mouths open and look him all over, same as if he was a wonder. 
I see it warn't no use wasting words—you can't learn a zombie to argue. So I quit.
Children was heeling it ahead of the mob, screaming and trying to get out of the way; and every window along the road was full of women's heads, and there was zombie boys in every tree… 
So Tom turns to the zombie, which was looking wild and distressed, and says, kind of severe: "What do you reckon's the matter with you, anyway?"
"Good gracious! anybody hurt?" 
"No'm. Killed a zombie."
6″ x 9″
(15.24 x 22.86 cm)
Black & White on Cream paper
254 pages
ISBN-13:
978-1499359107
ISBN-10:
1499359101
BISAC:
Fiction / Literary
Order Huck Finn and the Zombie Jim
from Amazon!